4 Course Dinner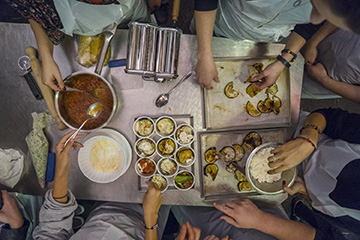 Participants working in a fully equipped kitchen, and under the guidance of an expert Chef, will learn how to prepare a typical 4-course Italian dinner, including an appetizer, first course, second course, and dessert. This course is followed by a dinner of the prepared dishes in our wine cellar. The session duration is approximately 3.5 hours.
Lessons can be held in English, Spanish, and Italian, and the minimum age requirements of all participants is 7 years old.
This class is scheduled every Monday, Wednesday and Friday at 5:00pm
Menus examples:
Ricotta and Spinach soufflé / Potato gnocchi with tomato, basil and garlic sauce / Chicken with mushrooms and Marsala/ Chocolate soufflè 
Eggplant caprese / Fresh egg pasta: ricotta and spinach ravioli / Hunter's chicken / Tiramisù
Vegetarian Soufflè- or - Panzanella / Fresh egg pasta: Potato tortelli with tomato sauce / Farmer's chicken / Panna cotta

Notes: 
Covid safety policy: Social distancing, Face mask, hand gloves, sanitazing, temperature control, for both staff and participants
Vegetarian/vegan options are available, but please advise when booking. Also, please tell us any dietary restrictions (lactose intolerant, no pork, no seafood, etc.).
This lesson includes: the meal, bottled water, Tuscany wine, and recipes of what you prepared.